The Unflappable, Unforgettable Esther
Portsmouth's first poet laureate
exits radiantly at age 93
Read poems from It's All Ahead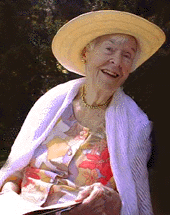 If all the buildings in Portsmouth fell down, this town would still remind me of Esther. Some people make their own skyline. They stand as dignified as architecture. They flow as fast as the Piscataqua. These are the Super Life-force People, the candles around whom the rest of us beat our wings. Esther was like that, and more, able to bend words in her bare fragile hands, to see through walls with her imagination and forge new friendships with the radiance of a glance.
Esther Buffler was a poet, but the word falls shy. Poets write poetry, which she did, five books full. Esther was writing verses for her sixth volume when she died last week in California at the age of 93. But a lot of people write poetry, and none of them is Esther.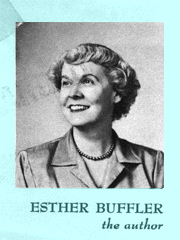 We'll be hearing many tributes in the months to come, most of them from people who knew Esther better than I. My Esther stories are no richer, but they're mine. She gave them to me, personally autographed, on the dozen times we collided or conspired during nearly 30 years downtown. I knew nothing all that time about her lives before – born in Pennsylvania in 1908, she married her true love Robert in 1930. I didn't know she was a puppeteer in the Depression years, the author of three children's books, a playwright, a mother, a model, a saleswoman, a Broadway actress. I read all that in her obituary today. But it figures. You could tell me Esther had been the first cowgirl on the moon and I'd believe it.
In a town of stiff brick buildings Esther Buffler was a storm of color. I usually found her swirling around the Rockingham Hotel where she lived -- all capes and shawls, big hats and fluttering skirts. I don't remember what we talked about – the ghost she saw in the hallway, perhaps, or whatever we were writing that day. We were always writing. It's what writers do.
Twice I hired her. She must have mentioned her New York acting years and I was producing a few low budget radio commercials. One was for a funeral home. Esther swirled into the recording studio at my office just a block from her condo and read her serious lines like a pro. Then I paid her $50 and we laughed, sniggering like two kids in church. Death, we agreed, was damn funny.
Another time, not long ago, we were sitting in the garden outside my office. Esther had been reading poems to a small group and afterwards she sat prayerfully, her hand on the closed book. I introduced her to a friend of mine, a woman, and they chatted amiably. Later I walked Esther back to the Rockingham, her hand on my arm as if we were an 19th century couple entering a grand dance hall. Esther was silent on our slow grand march, her thoughts off somewhere I had not been invited to follow. She was thinking, perhaps, of her husband, gone from the Earth almost as long as I have been alive. She had worlds and worlds to recall.
"That woman," she told me when we arrived at her door flanked by the two gold lions. "The cute one with the dark hair."
"Yes," I said politely without a clue where this was going.
"She's the ONE," Esther said, beaming with her lighthouse smile. It was a prediction, a command and a blessing all combined.
In 1998, on the edge of her 90th year , Esther made her first compact disk. She had just been named poet laureate of Portsmouth, a title she cherished. The CD, "High on Poetry", features Esther and 19 local poets reading. The cover of the disk shows her in her rooftop Rockingham garden, eyes bent heavenward, one arm raised open-handed like a statue in the Great Gatsby's fountain. Behind her the North Church steeple and Memorial Bridge play a distant backup role. It is classic Esther.
I don't pretend to understand half of what she wrote. Her words, at times, whiz past my head like near-miss bullets. But sometimes they hit. "To be eighty -- and remember," Esther wrote in her book "Unflappable Women." She could find the silver lining in the most disturbing cloud.
A piece from the last poem on her CD offers a self-portrait a decade later:
We met on the rooftop:
Old woman poet in an orange sweater,
mad-colored shorts: her low-density
bone legs propped against the weathered
faded flower box…
What a sweetness touch
In the sucking up Time
of being Old.
The last time I saw Esther she was walking alone down the steep brick sidewalk by the Music Hall, a bobsled ride for a woman on dwindling legs.
She always had radiance, but this time she positively glowed with the transparency of age that tells us a friend is moving on.
We talked. She took my hand and just when I was wondering if she knew me, she said, "And how is that lovely woman? You know, your dark-haired friend. I liked her."
"We're good," I said, which seemed to please her deeply. And then, with cautious steps, shawl and skirt and hat-brim waving, she disappeared.
Esther, queen of Portsmouth, has gone to Pennsylvania where her husband has been this last half century. Her radiance will be missed, but the brush fires she ignited burn. She told a friend she wants her tombstone to say simply, "Esther Buffler: She was a poet."
But lots of people are poets, and none of them is Esther. At the risk of being irreverent, which Esther often was, I must suggest one final edit to that pithy epitaph. I'd write, "Esther Buffler: She was a poem." And that's the way I think of her, as someone more precise than people made of prose -- more colorful, more dramatic, more honest and alive. She didn't waste a precious moment, and the ones she shared burn on.
"You don't know how delighted I am to be here!" Esther says excitedly in the introduction to her poetry CD. Boy, was she ever.
---
Copyright © 2002 SeacoastNH.com. by J. Dennis Robinson.
All rights reserved.. Color photo by J. Dennis Robinson.
Poem selection is from "End Touch" by Esther Buffler from "High on Poetry" published on compact disk by the Portsmouth Poet Laureate Program, 1998.
[ HOME | HISTORY | ARTS | TOURING | BUSINESS ]
[ New | Site Map | Talk | Store | Sponsors | Search ]

---
[ Calendar | Photos | As I Please ]