Who is the New Patriot?
Seeking peaceful celebration
amid a culture of violence
(Note: This is the conclusion of a two-part July series on the way Seacoast people celebrate their community and country.)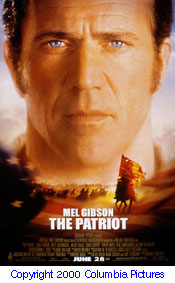 It was a fool's errand, but we waited in line all the same for opening night tickets to "A Perfect Storm." The tidal wave of enthusiasm has since abated, but on that evening the film about Gloucester fishermen was sold out, tossing the three teens and one adult ahead of us into a sea of indecision. Should they see Gladiator instead? Would it be Chicken Run or Scary Movie?
"The Patriot sounds pretty good," one tan thin boy in droopy shorts said. "I seen the previews and it looked okay." The other boys in identical outfits nodded in agreement.
"Oh you don't want to see that," the mom interjected. "It's about the American Revolution, all that boring history stuff!"
And so the parents of America pass the heritage of our forebears to the youth of tomorrow --- not.
Peace is a hard time for patriotism. The first is a simple state of being, evidenced by the absence of war. The second is a state of mind, some sort of love for a complex cocktail of country, community and philosophic ideals. To see if we are in a state of peace, look out the window or read a newspaper. But patriotism, like other types of love, begs to be tested by action. On an idyllic July in New England, with militia re-enactors encamped, it seems, on every Seacoast town common -- the awkward question is -- how can we express our love of country in a socially acceptable manner? In the cynical 21st century, where fashion preempts passion, it's not hip to be patriotic.
Unless you're Mel Gibson, that is . His character in Patriot serves dutifully in the local town government, then when his country calls, he hacks and shoots, head-butts, strangles and bludgeon's the enemy into red, white and gangrene bits. Lucky for him the enemy is a fascistic British officer who likes to burn women and children alive inside the local church. And those kids thought Gladiator was an action flick!
"Daddy, this movie makes me uncomfortable," a very little boy behind us whispered as Mel chopped feverishly at the body of a fallen foe with his beautifully inlaid Cherokee Indian tomahawk.
"Shhhush," the patriotic dad whispered back. "Just watch!"
Ken Burns, the avowed master of laid-back American history films, would roll over in his grave if he wasn't hale hardy and living in New Hampshire. Mel's character is a cross between the legendary Swamp Fox and a South Carolina patriot. He may be a brutal killer during battle, but in the movie this guy doesn't hit his kids, cheat on his deceased wife or enslave blacks. Uh-huh. Besides the fact that war is hell and we almost lost the Revolution, The Patriot does get one thing right: a lot of colonial British-American citizens were on the fence about the unpopular war. Also, the framers of freedom were not professional politicians, but ordinary people in an extraordinary era.


Today's revolutionaries too are hard to pick out of a crowd. Early Seacoast patriots met secretly at the William Pitt Tavern in Portsmouth or the Folsom Tavern in Exeter. Today one modern group convenes monthly at 7:30 a.m. around a small table in the back room of the Ceres Street Bakery. Their ringleader, Ellen Fineberg, is asking provocative questions, questions that fly in the face of the new complacency. Fineberg and her group of historians are studying the way the people of Portsmouth used to express their patriotic zeal -- with grand events, parades and pageants. She wonders aloud whether a little public display of pride might not soothe the aching American soul.
"What really intrigues me is the way communities like ours used to celebrate. Public celebration was a very important part of life, and we've lost that sense," Fineberg says.
Paige Roberts, Richard Candee, Genevieve Aichele and others are wondering if its possible to turn back the hands of time. Quietly, secretively, they conspire to hold a "Celebration of Celebrations" for the year 2002. On the docket is an exhibit of how early Portsmouthites used to let it all hang out. We tend to think of our forebears as the uptight ones, but they really knew how to throw a party -- big city-wide events were more common in the 19th century. Locals then were not afraid to celebrate historic events, build grand monuments, even sing together in public.
OK, it doesn't sound that revolutionary, but think about it. Before the "Me" generation came the "We" generations, decades of them. In the "good old days" before WebTV and digital cable, people actually attended events in person. The 1823 bicentennials in Portsmouth and Dover were big news. The popular New Hampshire homecomings with speakers like Daniel Webster, led to the even more boisterous "Return of the Sons & Daughters" celebrations. Giant floral arches were set at every entrance to the city center. At the tercentennial in 1923 as many as 2,000 locals participated in a re-enactment of local history while thousands more watched the spectacular outdoor pageant. Such events were discussed for the recent 375th anniversary of the first city settlement and for the millennium, but never got off the ground.


"There was much more of a public culture then," says local historian Paige Roberts. "Today we are obsessed with a private culture. We have to know every detail of the President's sex life, but we may not know our neighbors. Back then there was a public coming together, people functioned at the community level, very symbolic and yet very tangible. It wasn't TV, but real people rubbing up against each other in the public street. Everybody got to put up bunting, march, wear interesting clothing, build floats. This sent important messages. Everything had a symbolic meaning and people knew what they meant. "
Roberts points to the work of Portsmouth bookseller James Head (1832-1869) as the pinnacle of the public celebration. Head fastidiously designed grand arches, parade floats, decorations and monuments in an unpublished manuscript now in the Portsmouth Athenaeum. The intricate detail of his drawings and building instructions shows the importance, Roberts says, of patriotic and historical images to the 19th century public.
The cultural revolutionaries are still in the planning stages, Fineberg says. They are collecting images now of early floats, parades, decorated streets and buildings. The images, Roberts says, show a community reaching backwards for a connection to its past. Strong roots, Nature tells us, make a healthy tree. Strong roots, sociologists tell us, are what many Americans lack today. Television, films, fashion, technology, peer groups and the workplace have replaced family and community as the bonding cultural elements. "My country right or wrong" is a sentiment as unimaginably ancient, for youngsters today, as a 286-computer chip.
Others worry that the devil is in the details, that an overdose of freedom and information is slowly infecting the body politic with a virus of disenchantment and a culture of violence. The antibiotic, for some, is always local, injected at the home and flowing through all the streets of any given community.
Mel Gibson stood proudly among his slaughtered foe cradling an American flag. "Did you see the way he cut the man's head off? It was cool!" the little boy behind us was saying as the lights came up at the mall multiplex. He jerked spasmodically, pumped with energy, and twisted his way up the aisle, wielding his imaginary ax like a red-blooded American hero. The well trained crowd marched to the EXIT lights obediently. We jostled against our anonymous neighbors, but no one spoke. We blinked in the glorious July sun and stepped to our separate cars. There was still time, if we hurried home, to catch an episode of Survivor on TV. Would Jenna, the woman in the bikini from Franklin, New Hampshire get kicked off the island? A million bucks! Now there's something worth fighting for.

---

By J. Dennis Robinson

Sources: Portsmouth Davis Bros photos courtesy of Portsmouth Athenaeum. Patriot film images from Columbia Pictures web site.

Look back in time to 375th Celebration Here

Copyright © 2000 SeacoastNH.com

Don't miss Dennis Robinson's new column "Seacoast Rambles" every other week in Foster's Sunday Citizen at your local newsstand.
[ HOME | HISTORY | ARTS | TOURING | BUSINESS ]
[ New | Site Map | Talk | Store | Sponsors | Search ]

---
[ Events | Photos | As I Please ]
[ Arts Orgs | Theaters & Groups | Cinemas ]