Disposable Camera Tour
The Millyard Museum
Mill #3, Manchester, NH, Corner of Commercial & Pleasant St
Open Tues-Sat 10 -4pm, Sun Noon - 4pm
(603) 622-7531
I wish this museum had been around when I was going to school in Manchester. Back then the massive brick Amoskeag Mills were largely abandoned and the story behind them unclear to a kid wandering the spooky ruins. Now visitors to the Millyard Museum can discover the fascinating history of the experimental city built on the Merrimack at the dawn of America's Industrial Revolution.
Built inside the historic mill, the museum offers 11,000 years of local history in a dynamic series of exhibits. This is no dusty museum, but a bold and colorful display. Just before entering, look into one of the huge surviving tunnels that directed the river water that turned the great flywheels that ran the looms that turned cotton into textiles shipped around the world. Read about the wealthy factory owners and the poor immigrant familieswho together made the experimental city work for more than a century.

Exhibits include prehistoric Indian artifacts, Revolutionary War mementoes of John "Live Free or Die" Stark whose house is nearby. Learn how the mills and its machinery operated. Walk down a street where the windows reflect the past. Learn about the largest American flag ever made and see the city's first fire engine. The "Queen City" is like no other in the nation, literally designed by a corporation. But the corporation faded, while the city has rediscovered itself. Visiting the new Millyard Museum, you'll come to understand New Hampshire's largest city as never before.
It's just an hour from Seacoast, New Hampshire and 20 minutes from the capital city of Concord. This is definitely a place to take the kids. Check the Millyard Museum web site (below) for the latest evetns and membership information. -- JDR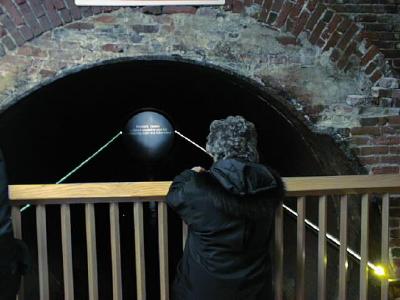 Visit theMILLYARD MUSEUM web site


All photos and text by J. Dennis Robinson
Copyright © 2003 SeacoastNH.com. All rights reserved.
Disposable Tours / Historic Sites / GOseacoast Sites History Homepage