Disposable Camera Tour
Parking in Salem's Lot
Salem, MA
Page 1 || Page 2 || Page 3
It was a spur of the moment decision, almost a compulsion. What historic town had we not toured? Salem was beckoning to us. we'd always been curious about the town that sold its soul in 1692 -- and has been promoting its famous witch trials ever since. We made a beeline for the classy Hawthorne Hotel, but missed the last room by minutes. Already the town's spooky persona was working its magic. A hotel lobby card proudly reminded us of the day a "Bewitched" TV episode was filmed there.

---
We found digs in the Salem Inn with our own working fireplace and a free Duralog. After warming up, we immediately went witch hunting. Salem boasts a Witch House, a Witch Wax Museum, a Witch (not wax) Museum, a Witch Village & a Museum of Myths & Monsters. The Old Town Hall was pitching a play about the witch trials. No exploiting the past here. Arthur Miller The Crucible), Stephen King (Salem's Lot) and Nathaniel Hawthorne (House of Seven Gables) have all taken their pound of flesh, but the feeding frenzy goes on. It was everything we had hoped for.

---
This is a witch? The best display at the Salem Witch Museum is not the main show. This history of witchery exhibit documents the exploitation of early "goodwife" female healers and nurturers. Seems the Catholic Church neglects to mention the 11 million women tortured and killed by fearful male clerics during the Dark Ages. The display in the main theater consists of lighted dioramas of weary mannequins and a spooky narration. We needed a potion to stay awake, but the story is moderately well presented.

---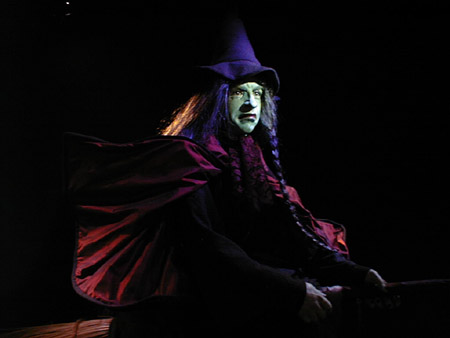 Ahh, now there's a REAL witch. The sign said no flash photography, so we just took a shot in the dark. This is the Hollywood witch with whom we are all so familiar. The recorded narration explains how hundreds of years of male fear of womanly powers have created this icon of evil. After learning how women have been exploited through the centuries, we were ushered into a gift shop chock full of witch souvenirs.

Photos and text by J. Dennis Robinson
Copyright ©2000 SeacoastNH.com All rights reserved