Town Stratham, NH
Date 1742
Author Ray Brighton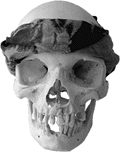 Those who like to wander occasionally through old-time cemeteries are often startled when then they come across a lot in which several children are buried, with the dates of death often spanning only a few weeks. Perhaps the passage of time has so eroded the grave markers that such burials in a Stratham cemetery are no longer visible.
But 1742 was known in that community as the 'Bereavement Year." Between Aug. 18 and Dec. 31 in that year, 77 people, including 70 children died, in an epidemic of "putrid sore throat," as the deadly killer diphtheria was then called. It its issue of Dec. 23, 1876, the Portsmouth Journal said that Deacon Samuel Lane, styled as the 'pall keeper," kept a record of the deaths. At the time of the Journal items Deacon Lane's record was in the possession of his grandson, Deacon E. J. Lane of Dover.
SOURCE: From Ray Brighton's "Rambles About Portsmouth", Peter Randall Publisher, 1994. (Click above to see and buy the book) Reprinted by permission of the publisher.
© 1999 Copyright to the author of the article
© 1999 SeacoastNH.com page design & concept
[ HOME | HISTORY | ARTS | TOURING | BUSINESS | SEARCH ]
[ Dead Zone | New | Site Map | Talk | Store | Sponsors | History Themes ]