Town Portsmouth, NH
Date 1768
Author Thomas Bailey Aldrich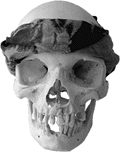 In 1768, Mr. James McDonough was one of the wealthiest men in Portsmouth, and the fortunate suitor for the hand of a daughter of Jacob Sheafe, a town magnate. The home of the bride was decked and lighted for the nuptials, the banquet-table was spread, and the guests were gathered. The minister in his robe stood by the carven mantelpiece, book in hand, and waited. Then followed an awkward interval -- there was a hitch somewhere. A strange silence fell upon the laughing groups; the air grew tense with expectation; in the pantry, Amos Boggs, the butler, in his agitation spilt a bottle of port over his new cinnamon-colored small-clothes. Then a whisper -- a whisper suppressed these twenty minutes -- ran through the apartments, --" The bridegroom has not come! "He never came.
The mystery of that night remains a mystery after the lapse of a century and a quarter. (Note: TBA wrote this in 1895) What had become of James McDonough? The assassination of so notable a person in a community where every strange face was challenged, where every man's antecedents were known, could not have been accomplished without leaving some slight traces. Not a shadow of foul play was discovered.
That McDonough had been murdered or had committed suicide were theories accepted at first by a few, and then by no one. On the other hand, he was in love with his fiancee, he had wealth, power, position -- why had he fled? He was seen a moment on the public street, and then never seen again. It was as if he had turned into air. Meanwhile the bewilderment of the bride was dramatically painful. If McDonough had been waylaid and killed, she could mourn for him. If he had deserted her, she could wrap herself in her pride. But neither course lay open to her, then or afterward.
In one of the Twice Told Tales Hawthorne deals with a man named Wakefield, who disappears with like suddenness, and lives unrecognized for twenty years in a street not far from his abandoned hearthside. Such expunging of one's self was not possible in Portsmouth; but I never think of McDonough without recalling Wakefield. I have an inexplicable conviction that for many a year James McDonough, in some snug ambush, studied and analyzed the effect of his own startling disappearance.
SOURCE: Excerpted from: "An Old Town by the Sea" by Thomas Bailey Aldrich, Chapter, 1895. See the entire book online courtesy SeacoastNH.com.
© 1999 Copyright to the author of the article
© 1999 SeacoastNH.com page design & concept
[ HOME | HISTORY | ARTS | TOURING | BUSINESS | SEARCH ]
[ Dead Zone | New | Site Map | Talk | Store | Sponsors | History Themes ]