Town Portsmouth, NH
Date 20th Century
Author Pamela & Melanie Keene with Kevin Auger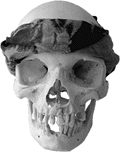 The old Rockingham Hotel on State Street is the site of the earlier residence of Woodbury Langdon, born in 1739, and elder brother to Governor John Langdon. The Honorable Mr. Langdon was a successful merchant and a firm patriot. The original building was destroyed by the great fire in 1781 which began in a barn near the present day Music Hall (see Phantom of the Music Hall). Langdon, however, rebuilt it in 1785, and occupied the home until his death in 1805. It then was converted into a public house and later enlarged and remodeled by brewery tycoon Frank Jones.
Another fire badly damaged the structure in 1884, and was soon rebuilt. Esther Buffler, elected Portsmouth's first poet laureate in 1998, resides in an apartment in the Rockingham today. Years earlier, she wrote a poem about "The White Lady of the Rockingham." According to Ms. Buffler, the spirit of a woman came to her apartment soon after she moved into the building. The author says she felt a calming affect and smelled the pungent scent of the sea upon viewing the spirit in her room.
Could this spirit lady have been perhaps the wife of Woodbury Langdon? Could she have been involved with Revolutionary war naval hero John Paul Jones, who lived next door at Mrs. Purcell's Boarding House?
Some say the vision of a lady with a pure ivory face has been seen peering from more than one window of the Purcell House, now the John Paul Jones House Museum. A ghostly presence has also been felt in the "shawl room" of the museum. The doors of a cabinet housing shawls, has for no apparent reason, opened up when the museum guides have been present in the room. A few years ago, two men visited the house equipped with "ghost finding" divining rods. They reportedly sensed the spirit of John Paul Jones in his dressing area and in the bed chamber where long ago he once stayed. Several museum guides have also mentioned have heard the sound of the back door opening and closing while they were in the back yard having lunch. No one else was on the property with them that day!
SOURCES: Esther Buffler, "Grandmothers Quilt," p.11-23 and CS Gurney, . Portsmouth Historic and Picturesque, 1905, p.129.
For more on John Paul Jones
© 1999 Copyright to the author of the article
© 1999 SeacoastNH.com page design & concept
[ HOME | HISTORY | ARTS | TOURING | BUSINESS | SEARCH ]
[ Dead Zone | New | Site Map | Talk | Store | Sponsors | History Themes ]