Town Portsmouth, NH
Date 1716 to present
Author Pamela & Melanie Keene with Kevin Auger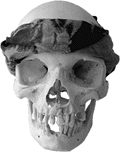 More than 120 years old, the Portsmouth Music Hall is situated on the site of the first Portsmouth almshouse or poor house, which was the first building of its kind erected in this country. The almshouse was built in 1716 and was used until 1755. Chestnut Street was then named Prison Lane and Fetter Lane was the predecessor of Porter Street, now an alley running from the Music Hall to the Public Library. The original names were very appropriate as the jail stood at the corner of the two lanes when the first "great" fire broke out in 1781 in the Treadwell barn on Fetter Lane, near the site of the Music Hall. The blaze destroyed, among other buildings, the jail.
In old theaters it is customary that a "ghost courtesy light" be kept on at all times during a performance. This consists of a single bulb on a stand which shines brightly for the "resident" ghost when the rest of the theater's lights have been dimmed. The workers and staff of the Portsmouth Music Hall are certain that there is a "Phantom of the Music Hall." " Some even report that a stage hand from long ago still wanders around. More recently, the descriptions of the phantom suggest he/she is clumsy and shuffles about the place. There are often noises in the lobby near the box office. People have suggested the ghost frequently blocks their view of the stage. Many are intrigued rather than spooked by the Phantom of the Music Hall.
The Music Hall is located on the site of a former Temple, an auditorium which burned. No report of the destruction of that building indicates that anyone died on the premises. But how do we know? In the colonial era, a location described as Chestnut Street, served as a "Negro" burying ground. This cemetery may have extended underneath the Music Hall. Is the Music Hall victim of a poltergeist? On this spot we've seen natural disaster, a colonial prison, a home for the poor, and perhaps an unmarked burial ground.
SOURCES: Interview with PMH staff member Mark Fleisher (7-1-98); lngmire, Bruce "Halloween", The Portsmouth Press, Thursday, Oct. 29, 1992, p 18
See latest events at the Portsmouth Music Hall
© 1999 Copyright to the author of the article
© 1999 SeacoastNH.com page design & concept
[ HOME | HISTORY | ARTS | TOURING | BUSINESS | SEARCH ]
[ Dead Zone | New | Site Map | Talk | Store | Sponsors | History Themes ]