Town Portsmouth, NH
Date 1694
Author Pamela & Melanie Keene with Kevin Auger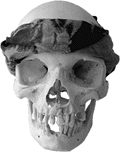 New Hampshire President John Cutt died in 1681, leaving his second wife, Ursula, a widow. (For a short time after New Hampshire separated from Massachusetts, the office of governor was called a "presidency.") In his last will and testament, President Cutt provides for Ursula, giving her choice for her future dwelling place, either rooms in his house, a residence in the warehouse, or a farm on the river. Preferring to have a house to herself, Ursula chose the farm, where she built a peaceful life for thirteen years.
It was the summer of 1694, the year when the provoked Indians of the East staged many attacks on the settlers. Though the Indians had reached Dover with their attacks, the residents of Portsmouth and Strawbery Banke were not worried that the reprisals might reach them. On that fateful day, a maid of the house first saw the attackers, and with incredible speed and agility, she flew to a boat and quickly headed for town to tell the others, so that she might be able to save Ursula Cutt.
When the villagers arrived at the house, a scene of sad calamity greeted them. The Indians had indeed attacked, and three workmen in the fields nearby had been shot down. Mrs. Cutt and another maid were found murdered and scalped. Apparently the Indians had some difficulties in removing the rings from Madame Cutt's fingers, because her hands were cleanly severed and removed along with the jewelry.
Those who visit the John Paul Jones house museum today might notice two cherub-like creatures standing in the front hall. These were the guardians of Mrs. Cutt's front door, and they can be seen in an early picture that was made of the house. If the tour guide fails to explain these, just ask, and this tale will be confirmed."
SOURCE: Charles Brewster's "Rambles About Portsmouth" Chapter 5, Vol, 1.
© 1999 Copyright to the author of the article
© 1999 SeacoastNH.com page design & concept
[ HOME | HISTORY | ARTS | TOURING | BUSINESS | SEARCH ]
[ Dead Zone | New | Site Map | Talk | Store | Sponsors | History Themes ]