Town Portsmouth, NH
Date April 29, 1916
Author Pamela & Melanie Keene with Kevin Auger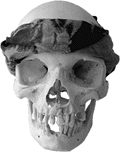 George Stillson closed shop at eleven o' clock on that fateful night, his dedicated closing time. Carefully tucking the day's money away on his person, Mr. Stillson left for his residence which was located on 142 Court Street, the present-day site of a senior citizen home. George Stillson never arrived at his house that night, although he came within fifty yards of his front door.
Between 11:40 and 11:45 pm on Thursday April 20, John E. Woods, a resident at 6 Fleet street, heard a man groaning on the street below him after first hearing two strange whistles cutting through the night. Quickly throwing clothes on, Mr. Woods came upon the figure of a man lying in the street. After ,,.'notifying" the police, Stillson was dragged to the office of Dr. F. S. Towle on State street, where a desperate attempt was made to save his life. After it was decided that Stillson should be taken to the Portsmouth Hospital, George W. Stillson died at 12:30 on the morning of April 21 while allegedly under the thresh-hold of Dr. Towle's front door, merely 45 minutes after the first strike. A police officer at the scene of the crime took one look at Mr. Stillson's prone figure and muttered "blackjack!"' Another witness, Ms. Adelaide Thurston, also heard the two "signal" whistles, and believed that one man was stationed near Dr. Towle's residence and business, while the other man was near what is now the Sise Inn.
The police investigation was eagerly set into motion, and Police Chief Hurly, along with Deputy Ducker, stated boldly that it was expected the attackers would be found within the week. After eight days of priority coverage by the press, the case was dropped, and George W. Stillson's murderers were never found, though many believe two shady figures who were hanging around Stillson's business at the time of closing might have been the culprits. George Stillson, who was "with no enemy in the world," was fifty-six years old.'
Footnote: A blackjack is a metal weapon, usually very heavy, that is wound with leather at its tip. it resembles somewhat a police officer's night stick.
SOURCE: Information gathered from The Portsmouth Herald, 1916, from the dates April 20 to April 28
© 1999 Copyright to the author of the article
© 1999 SeacoastNH.com page design & concept
[ HOME | HISTORY | ARTS | TOURING | BUSINESS | SEARCH ]
[ Dead Zone | New | Site Map | Talk | Store | Sponsors | History Themes ]