Town Portsmouth, NH
Date 1800s
Author Pamela & Melanie Keene with Kevin Auger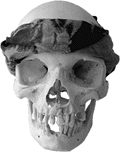 In the 19th century, a vacant house off Water Street (which today is Marcy Street) and formerly occupied by an attorney named Sherburne, was thought to be haunted by evil spirits. Popular superstition held that witches and wizards were likely to infest any dwelling left vacant. Those who were superstitious usually played it "safe", refusing to pass by a vacant building, especially in dark and stormy weather. Locals believed that witches could leap from such a dwelling in the latter part of the evening, and throw a bridle over the head of any passing by, immediately turning the victim into a horse. Then the witch was free to shoe the victim with iron shoes and ride him about the town throughout the evening. Upon sunrise, the witch or wizard turned the "horse" loose in the street. People who were afflicted reportedly woke in the morning to find prints of the horseshoes on their hands and feet. In a mirror they discovered marks from the bridle bits on the sides of their mouths. The Sherburne house was thought to be haunted, and strange noises and flickering lights were seen through the night as the evil spirits played inside.
SOURCES: They Came to Fish, Volume l,1979, by Brighton, Raymond, pg.254 and Brewster, Charles W. Rambles About Portsmouth, "The Haunted House."pps. 212-214.
© 1999 Copyright to the author of the article
© 1999 SeacoastNH.com page design & concept
[ HOME | HISTORY | ARTS | TOURING | BUSINESS | SEARCH ]
[ Dead Zone | New | Site Map | Talk | Store | Sponsors | History Themes ]