Town Portsmouth, NH
Date 1940s
Author Ray Brighton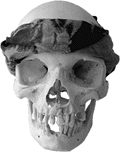 Harrison Workman, better known throughout the waters of Portsmouth Harbor as "WorkY," is the source of this anecdote. Shortly after World War II and the end of his service with the Army's mine planters in Portsmouth Harbor, Workman had gone back to lobstering, and one morning went down to where his boat was tied, ready for another day on the water. As he bent over the stern, he found himself eyeball to eyeball with a dead man whose untidy remains had become entangled in Worky's lines. Worky did the obvious: he called the appropriate officials.
But it was early in the morning, the guy was dead, so no one felt any great urgency. Having recovered a little from the shock of his discovery, Worky waited. Then he did what all GIs over the years have learned to do when nothing was stirring: he laid down for a nap, only a few feet away from where the victim's body still awaited forensic medicine. Deep in his slumber, Workman at first was only a little disturbed as he felt someone lifting him, but it was enough to make him sit up -- to the consternation of the undertaker's crew who apparently thought Workman's was the body they had come to pick up. Workman said: 'The guy on the foot end was so startled that he dropped me." The appropriate body was later removed.
SOURCE: From Ray Brighton's "Rambles About Portsmouth", Peter Randall Publisher, 1994. (Click above to see and buy the book) Reprinted by permission of the publisher.
© 1999 Copyright to the author of the article
© 1999 SeacoastNH.com page design & concept
[ HOME | HISTORY | ARTS | TOURING | BUSINESS | SEARCH ]
[ Dead Zone | New | Site Map | Talk | Store | Sponsors | History Themes ]