Disposable Camera Tour
The Place Where Lincoln Died #4
Washington DC
July 1999
Page 1 || Page 2 || Page 3
Page 4 || Page 5 || Page 6

4: The House Where Lincoln Died
A bullet longed in his brain, Lincoln was carried to this house across the street. Three rooms are open to the public.

---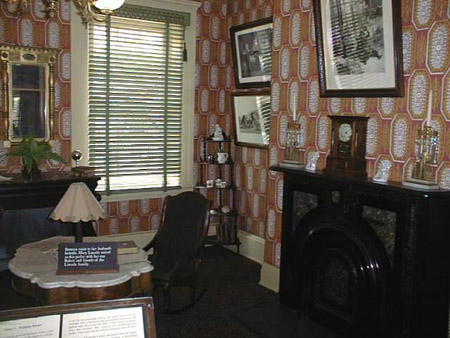 It's a self guided tour. A girl with a walkie-talkie greeted us and we visited the room where Mary Todd Lincoln and others waited during the President's nine hour deterioration.

---
In historic drawings this room has been expanded to include many more death watchers than its small size actually could hold. Still, the striped wallpaper and bureau and bed are recognizable. Here Lincoln was placed diagonally on the bed to accommodate his height. He never revived.

---
How could anyone stand at this spot and not feel the heavy sadness of the room? Like the hordes of tourists that filed through, as in the theater, we snapped our obligatory photo and passed along quietly. Sometimes it just isn't possible to look the other away.
CONTINUE the Lincoln Assassination Tour
SEACOASTNH HOME
Photos and text by J. Dennis Robinson
© 1999 SeacoastNH.com
To see pix by real professionals
go to our Photo Gallery Archives