Name:
Soldiers & Sailors Monument
Location:
Goodwin Park, Islington Street,
Portsmouth, NH
Honors:
Portsmouth area Civil War veterans
Dedicated:
July 4, 1888
Artist:
Monumental Bronze Company
Read "Making the Goodwin Monument Sing"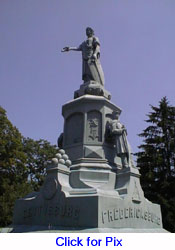 SUMMARY:
After the bloody Civil War, memorials to the dead and wounded appeared by the hundreds across the nation. To capitalize on this trend, the Monumental Bronze Company and others worked to streamline their sales with new affordable products. Using a cheaper zinc alloy, promoted as "white bronze", they could offer prefabricated statues and monuments. The largest white bronze monument in New Hampshire, Portsmouth's Sailors and Soldiers Monument is right from the company catalog. In fact, a sketch of our exact memorial is pictured on the company's business card.
Statues like the "American soldier" figure are depicted in great detail in the company's 1882 catalog. Buyers could purchase just one statue, or a combination of interchangeable figures and plaques. The soldier image alone, for example, cost only $450. For an additional $150, if the buyer could supply a photograph of a slain Civil War hero or loved one, the head would be recast in his likeness and attached to the prefabricated body. Portsmouth mayor Marcellus Eldredge, owner of the local brewery, originally planned to put this single image at the top of the monument, but later he opted for a larger more costly monument featuring a figure of Lady Liberty (or "America" as it is sometimes called) at the top of a long pedestal.
The monument includes: life-sized statues of a sailor, a soldier at parade rest, Lady Liberty, canon balls, a parrot gun, crossed swords, the GAR badge, a list of all major Civil War battle, the city seal, the NH state badge, the US coat of arms, a relief bust of Lincoln and one of Governor Goodwin, a picture of the USS Kearsage (a Portsmouth built war ship) and confederate cruiser Alabama, many title plaques, and raised titles on four sides in tribute to the Kearsage, plus battles at Gettysburg, Antietam and Fredericksburg.
The final cost in 1888 was over $5,000. All funds were supplied by the mayor personally or raised by public conscription. The City paid nothing for the monument or the park land. Recently, the park has been refurbished with a $250,000 HUD grant and the deteriorating statue is due for up to $125,000 in repairs. The miraculous white bronze, promoted as highly durable in outdoor weather, turned out to be a poor material for monuments. The zinc skin cracked, split, bowed and could not support weight of the large central column which was removed in 1955 to the monument's current shortened stature.
Dedication of the Sailors and Soldiers Monument on July 4 1888 was marked by pomp, parades and oration at the new Goodwin Park area. The new park was named for Ichabod Goodwin of Portsmouth, New Hampshire governor during the Civil War. It was located across from his family mansion on Islington Street. According to the local newspaper: ...never was seen in Portsmouth such a gathering of battle-scarred heroes as composed the Grand Army division of the parade. Several one-armed men were conspicuous, at least one wooden-legged veteran marched over the whole route, while one noble fellow, apparently totally blind, marched bravely on, fingers interlocked with two comrades for guidance. Such sites were more than heroic - they were sublime."
Written by J. Dennis Robinson
© 1999 SeacoastNH.com
KEY SOURCES: (1) Ray Brighton's "Rambles About Portsmouth", Chapter 4, Peter Randall Publisher, 1974; (2) Portsmouth Journal, July 7, 1888; (3) Vertical files at Portsmouth Public Library and Portsmouth Athenaeum.
CIVIL WAR MONUMENT LINKS
More information. Press BACK to return to SeacoastNH.com
ERODING PRIDE
By J. Dennis Robinson
Foster's Online
Association for Preservation of Civil War Sites
National Trust for Historic Preservation
Soldier's National Monument, Gettysburg
This is the same "white bronze" monument as the one in Portsmouth
Gettysburg Maintenance Dept Page
America's Historic Landmarks at Risk
Civil War Soldiers & Sailors System
A database of Civil War participants on both sides
American Battlefield Protection Program
See a "white bronze" tombstone in Florida
And a white bronze "drummer boy" statue in Brooklyn
A white bronze soldier in Chicago
that is exactly like the one in Portsmouth
[ HOME | HISTORY | ARTS | TOURING | BUSINESS | SEARCH ]
[ New | Site Map | Talk | Store | Sponsors ]

---
[ 375th Home | History Themes ]

PO Box 4458
Portsmouth, New Hampshire 03802
URL: http://www.SeacoastNH.com
Voice: 603-427-2020
Email: info@SeacoastNH.com