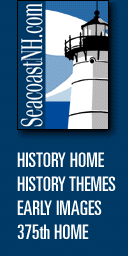 Recent discovery of an old Portsmouth
whaling journal sparks new research
Click here to go whale watching
Click to see whaling book by Kenneth Martin
Portsmouth Takes a Risk
Times were tough in Portsmouth in the early 1800s. Despite lucrative bouts of privateering, the war with Britain and the resulting embargoes on trade had dampened business. The economy just would not catch fire, but the city did, literally, again and again. In 1813 one "Great Fire" destroyed 192 wood frame buildings, including the new home of Portsmouth lawyer Daniel Webster. Soon after, Webster and hundreds of others left the region for greener pastures.
So when someone suggested turning Portsmouth into a whaling community, it sounded like a good idea. Local craftsmen had certainly built some fine whaling ships for the burgeoning industry in nearby New Bedford, Salem and Nantucket, Massachusetts. Whale oil, cooked from the blubber of giant sea mammals, was the ultimate modern fuel. Whale oil for lamps was selling at 23 cents a gallon (about $5 today) and a whaling ship could return with thousands of gallons. Sperm oil, used as an industrial lubricant, brought in nearly four times the price. Long before concern of endangered species, whales were easy enough to catch and still plentiful. All one had to do was find them. If other ports had hundreds of whaling ships, why couldn't Portsmouth have a few?
So the Portsmouth Whaling Company was formed in June 1832 at the Bell Tavern on Congress Street. Corporations, a popular new business idea, had worked well in Portsmouth before. By sharing costs, a group of investors could create a business, share the risks, and divide up the profits This "venturesome attitude" had lead to the funding of local banks, steamboats, even roads and bridges. Portsmouth Whaling Company investors included Ichabod Goodwin, a future New Hampshire governor. Another was Thomas Laighton, who would soon build a tourist hotel on the rocky Isles of Shoals, featuring his daughter, poet Celia Thaxter.
There was as yet no ship, crew, expertise or provisions. There was, however, investment money and, soon the group owned the 98-foot 300-ton whaler Pocahontas. Supplies not normally found in Portsmouth had to be custom made. Experienced crewmen were needed for difficult voyages that could last years. Specialized whaling gear, unknown in Portsmouth, had to be purchased elsewhere or crafted locally at great expense.
Other entrepreneurs, smelling money, took the plunge. Charles Cushing of South Berwick quickly outfitted the ship Triton , and later Plato for his own whaling venture. Another group under the Ladd brothers (of Moffatt-Ladd House fame) also decided to cash in on the imagined whaling boom. As an outgrowth of their Portsmouth Pier Company on Daniel Street, the two joined forces with investors who paid $500 each ($11,000 today) for 40 shares of stock in the ship Ann Parry. To corner the local market, the Ladds also built a whale oil refinery on Market Street, the only one of its kind in this region.
"Heavy Weather and Hard Luck"
It wasn't easy, but the whaling ships soon had provisions and young crewmen, some so green they had never been to sea. Adapting the nearly 30 -year old Pocahontas from a merchant ship to a whaler cost more than was budgeted, but by September 1832 the refit whaler was off to the Pacific. This was not a strike-it-rich business. Investors would not see the Pocahontas back on the horizon for 42 months. Even then, her hold was only half full of whale oil.
Young inexperienced crewmen, apparently, were part of the problem. The seasoned captain William Walker, was 25 years old, but others were as young as 17. The ship's record lists a good deal of insubordination onboard, incidents of theft and "grudge bearing," all leading to a lack of teamwork that was essential to successful whaling. Bad weather and too few sightings did the rest. A lesser crewman's income for the voyage could be as little as 1/200th of the profits. For three and half years of work, after borrowing against his estimated wages, one crewman found himself $40 in debt at the end of the grueling expedition.
The Pocahontas had gone in search of the more valuable sperm whale oil, and found fewer and smaller whales than anticipated. Despite disappointing results, the Pocahontas was refit and this time, with a new crew, went searching for the more plentiful "right" whale species in the Indian Ocean. A financial panic of 1837 further discouraged investors, and the Portsmouth Whaling Company went belly-up in 1839.
Cushing's venture, by contrast, made lots of money. In 1833 the Triton went after right whales, departing well after Pocahontas, and came quickly back to port with more than 500 barrels each of spermicetti and right whale oil, plus whale bone. The value cashed out at a half million dollars by today's measure. Triton was quickly refit and sent back out in 1834. After a second successful 10-month voyage, Cushing bought the ship Plato. Both were back in port, and Cushing had closed out his business, before the Pocahontas returned from her first mediocre voyage. Cushing, it is assumed, took his profits and quit during the Panic of 1837.
Ladd brothers Alexander and Charles were from a prominent Portsmouth family, already wealthy from merchant and slave trading. Their 107-foot 348-ton whaling ship, the Ann Parry left 15 weeks after Pocahontas' first voyage in 1832. In her nearly four-year expedition, Ann Parry encountered Pochahontas a number of times halfway across the globe. The Portsmouth Pier Company's first venture was costly, but fruitful. The modern cash value of the oil and whalebone was worth $1,200,000.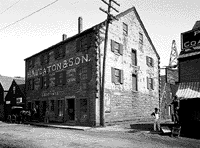 The Ladd brothers certainly expected a booming whale oil business in Portsmouth. Their refinery, a newspaper report from the time notes, contained 3,000 barrels of crude sperm oil purchased from New Bedford and other sources. The "winter" oil was processed or pressed in below- zero temperatures, then again as "summer" oil at 50 degrees. This refinery survived until 1849, a year after the Portsmouth experiment in whaling was over.
The final voyages of the Ann Parry are easy metaphors for the sudden rise and fall of the Portsmouth whaling industry itself. Generally the ship made money for the Ladd's, but it made trouble too. Much of the story was recorded by whaler Leander Huntress whose illustrated journal recently became part of the collection at the Portsmouth Athenaeum. It was Huntress' journal that sparked interest in further research and a book on the Portsmouth experiment by whaling historian Kenneth Martin.
Huntress' whaling diary tells of bad food, endless floggings, sailors jumping ship, dying and lots and lots of fighting. The Ann Parry's final voyage in the Indian Ocean sounded the death knell for the industry in Portsmouth. At one port, rowdy battles between crewmen and locals led to the death of a native. The captain was too ill to remove the vessel quickly from foreign waters, so local officials appointed a surrogate captain, a man despised by his crew. Simply put, the new captain took advantage of his rank, spending much more time among island prostitutes than among whales. The captain, it is reported, would come aboard ship to steal equipment that he could sell ashore to support his licentious habits.
By 1848, with this final voyage of the Ann Parry, the "golden" age of Portsmouth whaling was over. The Pocahontas had run upon some rocks in 1838. The Plato went to New Bedford, but was grounded. Triton was still whaling in 1848 and in service until 1857. After her Portsmouth whaling years, the Ann Parry became a Gold Rush ship and survived until the Civil War.
By J. Dennis Robinson
Source: Condensed from a lecture and book by Kenneth Martin. For more information read "Heavy Weather and Hard Luck": Portsmouth Goes Whaling, Portsmouth Marine Society, 1998
© 1998 SeacoastNH.com
[ HOME | HISTORY | ARTS | TOURING | BUSINESS | SEARCH ]
[ New | Site Map | Talk | Store | Sponsors | History Themes ]